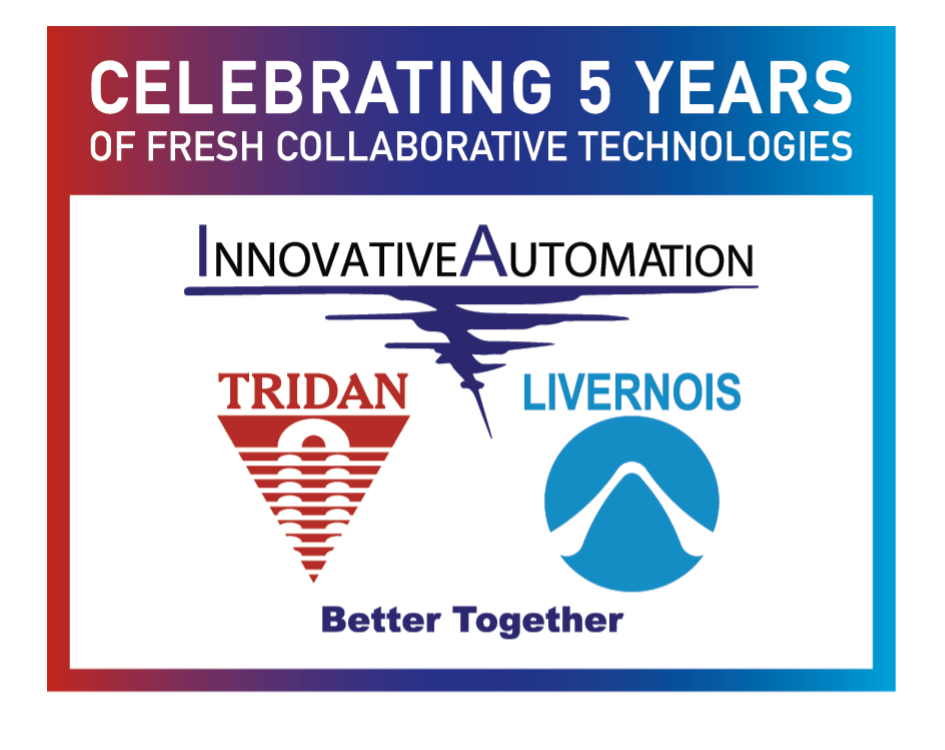 In 2018, Innovative Automation joined forces with Livernois Engineering and Tridan International.  These past 5 years have been a time of learning and growth while becoming a leader in advanced manufacturing technologies.  We have successfully brought together three companies and we are Better Together as a result.
Each of these three companies was already a powerhouse of knowledge with respect to the design and build of production machinery and tooling.  Livernois Engineering has been producing equipment and tooling since 1949.  Tridan International has been producing all types of equipment and tooling since 1966.  Innovative Automation has been a contender in the production of equipment and tooling since 2000.  All three have proven manufacturing expertise and a track record to show for their contributions.  Collectively, we have over 150 years of experience in the design and build of production equipment and tooling and that is truly quite an impressive history!
We have developed a reputation for venturing outside the box by taking on manufacturing and assembly projects that many companies thought were too difficult.  Together integrated all our technology and customer support systems onto a common platform used seamlessly between our locations.  We have added knowledgeable and experienced personnel to our group in direct support of customer projects, and we have invested hundreds of thousands of dollars in facilities, capabilities, and capacities.  We have increased our floor space available for customer projects and development by over 50%.
More importantly, we have leveraged our upgraded capabilities and capacities to bring new and improved products to the manufacturing marketplace.  By taking advantage of already robust and proven designs and modernizing the level of technology, we can offer state-of-the-art systems for many manufacturing functions. We can also provide custom automation products and tools engineered specifically to meet the unique requirements of our customer's unique applications.
Three Companies Proven Better Together
Five years of Better Together have shown what is possible when you blend three of the best together as one!  Tridan International, Innovative Automation, and Livernois Engineering can now simultaneously support our customers out of multiple locations in Michigan and Illinois.  We have been able to look at projects through sets of fresh collaborative eyes in ways that would not be possible without having brought all three brands together.  Having achieved these improvements while updating our processes and systems will allow us to continue on this technologically advanced path well into the future.  We will always continue to strive for ever-improving systems allowing us to provide value to all our customers.
We have thoroughly enjoyed the growth we have seen since we have come together as one.  Thank you to our customers for the support that you have shown us over the past five years.  It is you putting your trust in us and allowing us the creative playground to reach ever higher that has made Better Together such a fun ride these past five years.
We look forward to serving you for many more years to come! As always, please don't hesitate to reach out to any of our team to see how we can help! We look forward to discussing your project with you and providing a unique solution for your unique application.