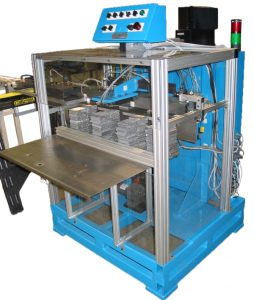 Dependent upon the philosophy of the manufacturing facility and the type and style of the core builder being used, there are some times when it makes more sense to pyle fins as opposed to traying fins.  Livernois Engineering helped to pioneer this type of fin handling and has been making pylers for years.
These unique machines collect the fin and drop them onto stacks of a set height that allow for simple placement into the core matrix of a core builder.  Conveniently presenting these stacks to the operator and make this a very efficient method for loading fins into the core matrix while not requiring any additional components like trays.
We also offer other methods for handling fins.  With our partner company Innovative Automation, we can also develop custom applications that provide methods for handling fins specific to your process.  Our Tridan International partner company also provides Collectors for certain fins designs.  We have Engineers familiar with all of our companies to assist with a recommendation for fin-handling equipment.