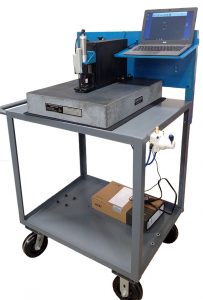 Given that Livernois Engineering has specialized in fin manufacturing for over 70 years, it only makes sense that we would have the experience to develop a fin height measurement system as well.  Fin Height is a very critical criterion for all heat exchanger manufacturing operations, yet few systems exist that can measure height with a demonstrated ability to meet high-level Gage R&R results.
Our unique fin measurement system is simple and robust.  It features an engineered pad that touches the fin in a manner that allows for consistent and meaningful height measurements.  It also allows for the precision adjustment of the touch pressure to allow for use on a variety of fin types and styles.
With our partner company, Innovative Automation, we are also able to configure this measurement system for folded fins while Tridan International is able to produce systems for the measurement of stamped fin heat exchanger characteristics.